What is a Social Worker?
Hospital social workers provide direct services to patients and their families/carers with the aim of minimising the negative impacts of illness and hospitalisation. A hospital social worker's role is to enhance social and emotional functioning through targeted interventions and the mobilisation of services and supports.
Social workers intervene in the context of a patient's social environments and relationships, recognising the effects of the psychological, familial, social, economic and cultural determinants on health and wellbeing.
Part One
Build a Case Management Support Plan
​
As the hospital social worker on this case, it is your responsibility to complete a Case Management Support Plan for the patient. To do this, there are a couple of things you will need to explore. You can compile all of your research and recommendations in one document at the end.
​
The first part is investigating local emergency care in-home services. You can research options online that are local to the hospital and suburb/town that the patient lives in. List down what you think are the top five options.
Part Three
Make Recommendations ​
​
The next part of the task is to present your recommendations. Using what you have found from researching local emergency care options, her family situation and the relationships on the patient's ecomap here, make some recommendations about what you think should be the patient's care plan during her recovery. Who will be able to help support her son on the days the pre-organised care is unavailable? Part three should be no longer than one page.
An ecomap expands on the relationships and influences in a person's life, beyond their family network. Use this eco-map of the patient's relationships and the genogram you completed in part two to complete part three of this task.
Part Two
Create a Genogram
​
A genogram is a graphic representation of a family tree that looks at the psychological factors impacting a family's relationships. Instead of simply seeing that two people are brother and sister, you'll also be able to determine if they have a close or hostile relationship.
​
Create a genogram to help you find out which relatives are viable options to help with the care plan.
​
E.g. the patient and her ex-husband are not in contact, so we know that he will not be a good option to help care for the son.
​
Using the guide here, turn the Williams family tree into a genogram: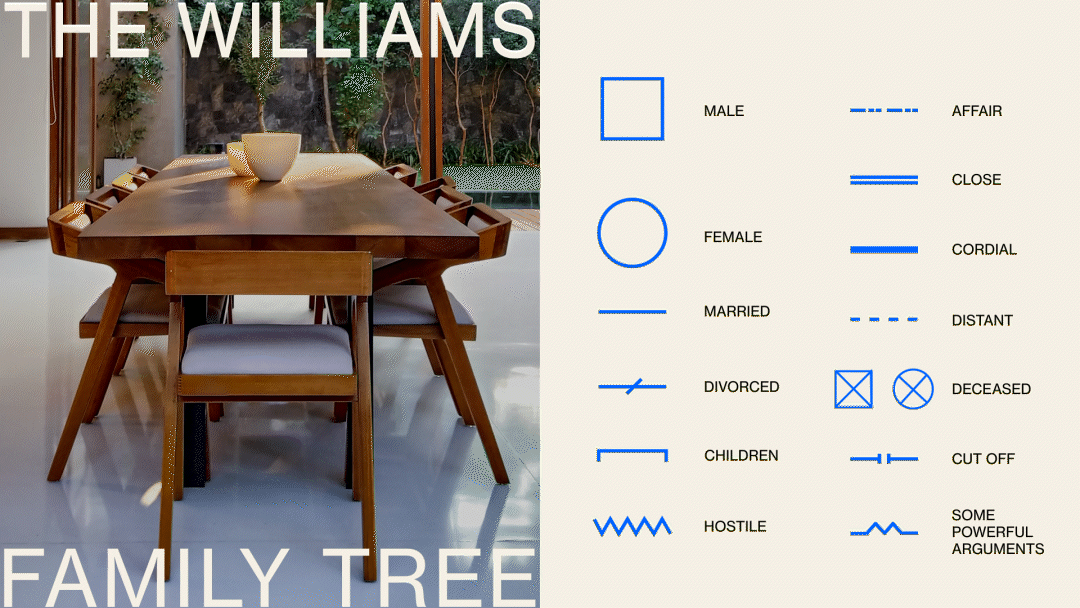 Submit
Once you have finished your response please submit it below in one document. Accepted file formats include powerpoint or pdf. REMEMBER if you are including a video ensure you submit a powerpoint presentation so this can be viewed.
​
This is a professional document that you are presenting to your client; so you should format the pages to look professional. It needs 'wow factor'.
​
Good luck!
Scroll the gallery to explore the different modules.
Skills you will develop during this task.
2 hours
The Brief
You are a social worker at a hospital. For this Virtual Work Experience task, pretend it is your local hospital.
Meet your patient, Sarah Williams. She is a 52-year-old female patient at the hospital. She has just come out of surgery, following a serious fall that resulted in a fracture to her leg.​
​
The patient is the primary carer for her 27-year-old son who has cerebral palsy. The patient will not be able to resume caring for her son for another six weeks, as she recovers from surgery. Read her full patient profile in the laptop screen.